March 2012 - Annual General Meeting
Bill Farr, our Chairman, opened the meeting and welcomed all there. Apologies were read out from John Mullen, Scott Moroney and Dee Selby. Bill then handed over to Tony Cash to read out the minutes of the 2011 AGM and committee meeting held just after the AGM where Tony Smith resigned and Bill Farr became Chairman.
As Tony Cash stepped in at the last moment to be joint secretary because Mick Freeborn was unwell, there were no main minutes of the 2011 AGM ,just references to the committee meeting at Tony Smith's the following Monday.
South Hampshire Minutes of AGM 2011-Committee Meeting:
This was read out as above to all members before the meeting and there were no comments:
(Minutes as true account of AGM 2011 / committee meeting:
Proposed by Steve Bailey – Seconded by Bill Farr)
The President's Report
The President, Tony Cash, started by saying a thank you to everyone connected to the club for the work they did and apologised if he had forgotten anyone. He said that both Mick and Peter Merritt had put in a tremendous amount of work over the year to ensure that South Hampshire BS remained one of the best clubs in the south and that there had been some great meetings with entertaining speakers. He also mentioned that the programme for this year was looking good as well.
The Chairperson then gave his report:
Bill Farr said he had enjoyed the year very much and that having good speakers made it even better. He went on to thank his committee for all of their hard work during the year. Bill then gave a big thank you to Pam Freemantle, the unsung heroine, for all the work she does in the kitchen.
General and Membership Secretary's report:
Tony Cash started by thanking the committee for all their work during the year, which had contributed to the success of the club. He said the club had picked up 3 new members during the year and now had 28 members. All of the meetings had been reasonable well attended during the year because of the quality of the program / speakers and he hoped this would continue during 2012 and beyond.
Treasurer's report:
Peter Merritt went through the profit and loss/balance sheet reports that had been given out to members. Peter said that, compared to 2010, there were not a lot of differences and gave a full detailed explanation of the accounts. (Accounts Proposed by Mick Freeborn – Seconded by Steve Bailey)
Election of Officers: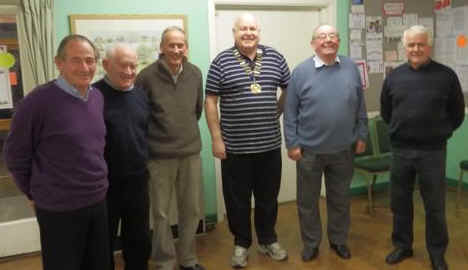 Tony Cash as President took over the chair for the election of Chairperson and officers:
Position
Proposed
Elected
Seconded
President

Tony Cash
2 Year Term
Chairperson
Peter Merritt
Bill Farr
Ray Nichols
Vice Chairman
Tony Cash
Steve Bailey
Mick Freeborn
General & Membership Secretary
Bill farr
Tony Cash & Mick Freeborn
Ray Nichols
Treasurer
Steve Bailey
Peter Merritt
Malcolm Freemantle
Publicity
David Rice
Malcolm Freemantle
Steve Bailey
Catering
By Committee
Pam + Others
By Committee
Patronage Secretary
By Committee
Peter Merritt
By Committee
Show Manager

By Committee
Mick Freeborn
By Committee
Show Secretary
By Committee
Peter Merritt + Team
By Committee
Bio –Security
By Committee
Mick Freeborn
By Committee
Auditors
As Last Year
Malcolm Freemantle
President Elect
Malcolm Freemantle
Mick Freeborn
David Rice
Committee
Bill Farr, Steve Bailey, Peter Merritt

New

Tony Cash
David Rice
Malcolm Freemantle
Bill Farr mentioned John Burton's donation of £41.49 (his Bucktons commission) saying that not many breeders from the club are buying from him?
Regarding the Open Show in August, we are having an auction of birds to raise funds for the club.
Donated Birds:
Tony Cash

Steve Bailey

Mick Freeborn

Peter Merritt

Bill Farr
Thank you for all of your support. The AGM finished at 9.15 and Bill thanked all members and closed the meeting, wishing all a safe journey home.