South Hampshire April 2019
Jim Lawrie, our Chairman, opened the meeting and welcomed all there. (30)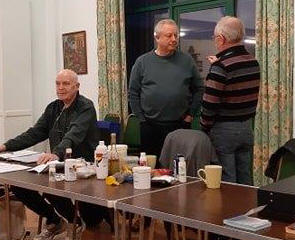 Apologies were read out from John Burton, Bryon Shaw, Geoff Futcher, Brian Bailey, Kevin Burnett, Peter Church, Steve Cox and Pam Freemantle. (8)
With all the birds' benched (any Green Series) and ready for discussion later.
Jim Lawrie then welcomed Steve Holland of The Holland Stud to our April 2019 Meeting.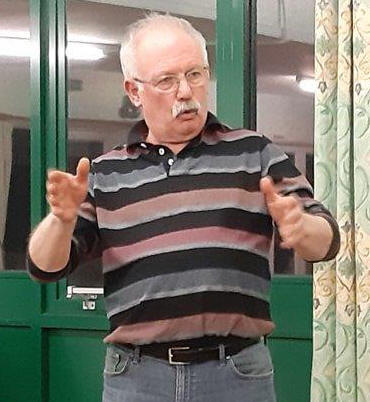 The presentation was headed:
Medication, Prevention or Cure! (Below is Stephen`s report)
What do you look for when purchasing an outcross!
a/ Clean well managed bird room
b/ Stock that is healthy
Without these two we would walk away from the best bird we had been offered!
What do you do with new stock when you get it home!
a/ Ivermec all new birds as they come through the door.
b/ Isolate them from all your stock, if possible in separate room.
c/ Treat for Trichomoniasis we use Ronivet S but there are a number of similar products in the market place that will do the same job. Follow the instructions of the product you are using.
d/ Follow this with a course of Probiotics, again there are a good number of brands in the marketplace.
e/ Treat for Mega bacteria! We did this last year but the Megabac S does not have a licence in the UK and you may have to import it from Vetafarm. It's a pain to administer as you have to "black out" all of the drinkers because it degrades in light.
f/ Again a course of probiotics
Realistically that would take about a month. Much longer than what most people would consider a period of quarantine
In an ideal would I would have pre-treated the isolation cage with Mil Ban.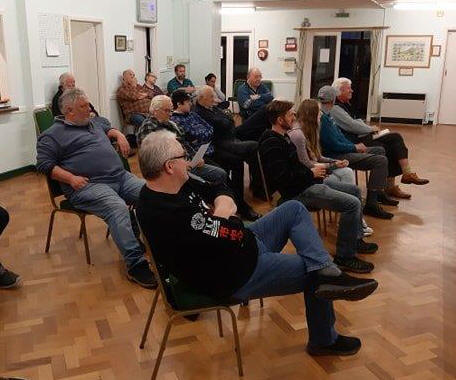 Trichomoniasis
How often do you treat for this! Vetafarm recommend 4 times a year, if you use Ronivet S it can be given with no ill effects during the breeding season always follow with a treatment of a probiotic. Other medications include Harkers "Spartrix" and Versa Laga "Tricho Plus"
Mega bacteria
Possibly the worst named illness in Budgerigars. It's not a Bacteria and will not be effected by antibiotics. What is it, vets will now use the term AGY or Avian Gastric Yeast, mega bacteria is a yeast infection. More recently three form of yeast infection have been identified. The "accepted" treatment is Megabac S, but as I have already said it does not hold a licence in the UK, effectively making it illegal! It's a pain to use as the drinkers have to be "Blacked out" as the product degrades in light.
Is it effective!!! I spent some time with an "exotics" vet last year and her view was that there were three stages of Mega bacteria. Stage 1 all birds carry it but their immune system keep it under control, Stage 2, the immune system in the bird is weak and symptoms start to be visible. Stage 3, a full blown outbreak in the bird, this normally means the "infection" has spread to other organs.
At stage 2 you may be able to get the bird back but at stage 3 the bird probably is of more of a risk to your stud and should be disposed of.
Having treated the stud last year with Megabac S it's very expensive, we spent £300 on sufficient Megabac S to treat a stud of 400 / 500 bird. Was it effective! Our view and I think the view of everyone who I have spoken to who has used it is the same. At best it's a preventative medication; it will boost/reduce the risk of stage 2 mega bacteria it will do nothing help at stage 2.
Sodium Benzoate is another treatment that is widely used for Mega bacteria. This is easily and cheaply obtained. It's a food preservative widely used in the food industry again for us it's a preventative medication it does not bring a bird back from stage 2.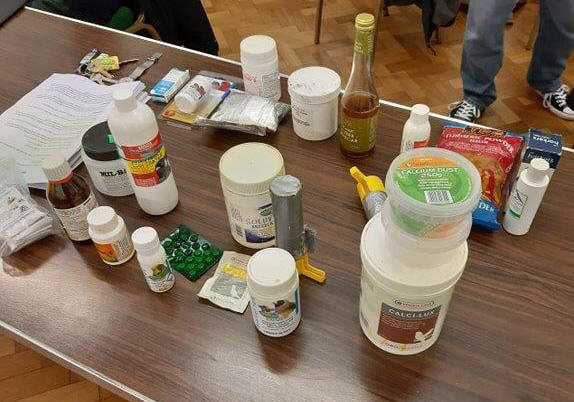 Our vet suggested the best "preventative" action we could use was to keep the bird's crop slightly acidic. This can be achieved by the addition of cider vinegar to the birds water for a couple of days a week.
Hydrogen Peroxide! What is it. It's the best substance for removing fungal growth if you have mould in your bath room treat it with Hydrogen peroxide. Why do I mention this, I did a lot of research on the internet trying to find a successful answer to stage 2 mega bacteria. I found a research paper from a university in Italy that showed result using 1ml of 10% Hydrogen Peroxide to 100ml water for 30 days had major results in combating stage 2. I have since found out that it is better to use none chlorinated water.
Michael had set me the task of trying to find something that may work. When I found this I said "don't shoot the messenger" as I knew he would say Hydrogen Peroxide is what they use to bleach ladies hair. It was the reaction I got never the less. We had 3 hens (and its hens that seem to suffer with Mega bacteria more than cock birds) that Michael had desperately hoped to get in the breeding cage, so we were at a stage of "try it or lose them" we had nothing to lose.
The hens were put on the treatment and after 30 day looked fit and healthy, so much so Michael put 2 of them in the breeding cage. To me this was the ultimate test, would they be able lay eggs, would they be fertile and would the chick be healthy. The answer was yes, yes and yes. We have health chick off the two hens. I have told three other "friends" and they have all had similar results, one novice took the decision to treat the whole of his small stud. No ill effect. A couple of other thing I learnt was that a major constituent of eucalyptus is Hydrogen Peroxide so birds in the wild consume it naturally.
Another item with Hydrogen Peroxide in it is Manuka honey. This can be added to drinking water, warm the water, don't boil and the honey dissolves, if it's added to boiling water the heat kills all the goodness.
As I originally it was thought to be one form of yeast/ fungus that cause AGY but in more recent papers three forms have been identified. A new drug called FUNGITRAXX now has a licence in Europe that treats two forms but this is only available on vet's prescription and has to be administered directly into the bird's crop for a number of days.
New medication called MegaCare by the Bird Care company it's a two part medication and is £18.99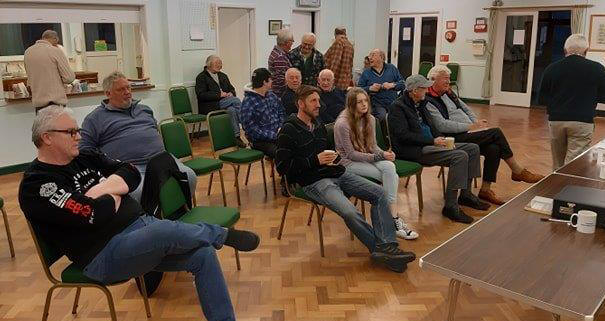 Preparation for the breeding season
Cleaning routing, wash with a disinfectant solution, followed by a wash with a bleach solution, followed by a steam clean, then paint with Mil Ban. Also do the end 1" of every perch with Mil ban and all the joins in the nest boxes. I would also suggest the use of Diatonic earth in the bottom of both cages and nest boxes
Water
Is all our water the same!
No it can vary in hardness and the chemicals that the water companies can legally add to our water.
Has anyone experienced hens going "lame" when laying eggs. Its rickets caused by a calcium deficiency. Michael has regularly had a couple of hens a year going lame during the breeding season, but it seldom happens at my place. Our seed and feeding methods are exactly the same so I started to investigate what the differences could be. The only difference I could find was our water supply.
Michael has his water off South Staffs and my water is from Severn Trent (even though we are only 30 miles apart) Michael's water is very soft and my water is very hard. If we do not filter our kettle water we fur up a kettle in about 6 months and my father would never drink any form of water drink at our place. When I examined the calcium content of hard and soft water the results were staggering, and partly answered the difference. I then read an article about fluoride addition to water. The water companies can, if they wish add fluorine within a range. Florine inhibits the uptake of calcium, and when I checked South Staffs added it a much higher rate than Severn Trent. So Michael has the two extremes low calcium content in his water and a high inhibitor rate. You can check all this on any of the water company's web sites.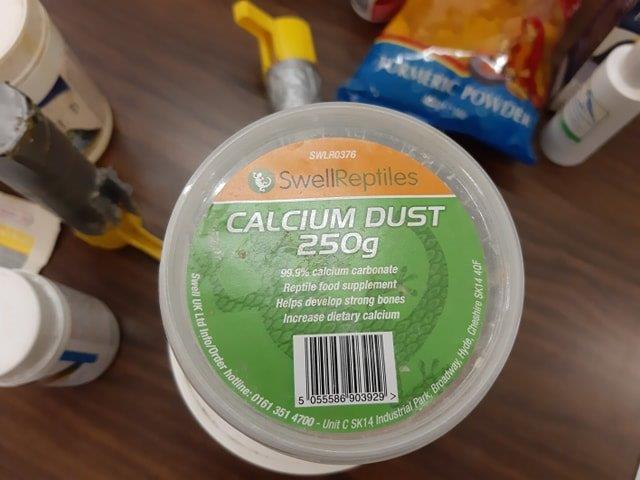 What do we add to water!
Calcium uptake from any source requires one additional thing Vitamin D so once a week for two days we add Soluvite D, this gives the required vitamin D. Avigold is a similar product. I have heard mixed results with the new Avigold Plus!
Water sanitiser, we add 2ml of Solosan to a 1 litre of water for two days. This is particularly good in "open" flight waters where droppings can be deposited in drinking water.
Does anyone ever have what we call a stinky hens. A hen who's droppings smell like ammonia when they are laying eggs. You will never get fertile eggs off these hens but it is simple to cure. Add a teaspoon of cider vinegar to a pint of water and give this to the hen for a couple of weeks. The smell will disappear and she will get fertile eggs.
Calcium addition to water can be done but we prefer to add it to our soft food, but remember it's only worth doing if you add a vitamin D supplement. The reason we add things to the soft food is simple. Budgerigars can go about 30 without water, they can extract the water they need from any food containing water ie veg, soaked food and soft food. We believe if they don't like the taste of the water they will leave it, but we are left with empty soft food dishes regardless of what we add.
Cider Vinegar was recommended by the exotics vet as the best preventative action to prevent Mega Bacteria so for two days a week they get one tea spoon of cider vinegar into the soft food every other day, and in truth they seem to like the soft food more with the cider vinegar addition. I have a chart that I can leave which show what cider vinegar additions you can use for some complaints.
Calcium addition:- Question what do you use. Have you looked at the calcium content! Most brands contain between 2.5 to 7.5% of calcium. You are then asked/told to dilute this in water so your calcium additions are around 0.2 to 0.7%. we use a calcium powder that is 99.9% calcium, it's cheaper than the branded calcium…..I just don't like wasting money.
Watering systems. I would never use automatic watering systems. Budgerigar water take up is low and therefore the water movement in an automatic watering system is low. Coming from the food industry one of the things we had to test for on our cooling systems was legionella. Typically occurring in low movement and warm water.
We use flowmatic drinkers that are scrubbed every other day then at least twice a year we soak them in a bleach solution for two days then into a plain water solution for two days. This ensures there is no bacteria/algae build up in the drinker. This is also another reason we use Solosan in our drinking water to reduce any risks from the water.
Ongoing bug control. Avian Insect Liquidator can be mixed with water to the directed dilution and sprayed in the aviary without harm to any birds. I know of breeders that do this on a regular basis via a fogger.
Anit-biotics:- One area where we have problems in our view, the old Auromycin and Terramycin were "fast acting" antibiotics and if you got them into a bird early did a great job, the only ones "simply" available are Triple C a Vetafarm product and Oxymav B. They contain the same active ingredients but Triple C is four times the price but double the strength. Oxymav B works out a half the price. They are good for respiratory infections and gut infections. The real truth is that you have a very short window of about 24/36 hour to save a bird in and any treatment needs to be fast acting. We find that Baytrill although a broad spectrum antibiotic, is far too slow acting for most ailments. I have recently read an article which said it was for a specific range of illnesses and if used for anything else it could harm the liver.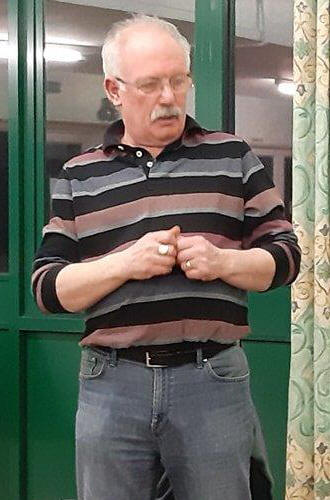 Question time
What I would like you to do is say what is wrong with the bird described and what you would do!
1/ a bird is inactive fluffed up and has been losing weight for a few months :- Trichomoniasis
2/ a bird is inactive fluffed up and has been losing weight for a few months:- Psillacosis
3/ a bird is fluffed up and losing weight for a few months:- tumour
4/ a bird is fluffed up and losing weight for a few months and you notice its cracking seed:- Mega Bacteria but which strain
5/ a bird is losing weight but eating well:- worms. Plenty of worm treatments in the market place but do make sure you give the correct dosage, Belgium!
6/ a bird is fluffed up and wet around the vent:- Enteritis give anti biotic
7/ a bird is fluffed up inactive and laboured breathing:- air sac mite
In short it's better, simpler and more effective to prevent illness rather than try and cure.
Vets:- as a general rule we have found that most "high street" vets are of little help when it comes to budgerigars. You really need a specialist avian vet to really help you. Most "high street" vets will want to carry out an autopsy and send samples off to labs, which is very expensive, especially if it's a good bird they want to put down. Although we have never used them I am hearing very good reports about Retford Poultry Partnership in Nottinghamshire. Their pricing structure is very reasonable and most tests are done from swabs or feaces samples. Unfortunately Retford have now been taken over …..does anyone know if the new companies name and if they do the same tests?
Steve said The Holland Stud has 2 aviaries, at his which is the smaller of the two setups the other at Michaels' which is 10metre square with 47 breeding units and 8 flights compared to Steve's 25 units with 2 small flights. Birds are transferred between the sheds during the year for assessment etc.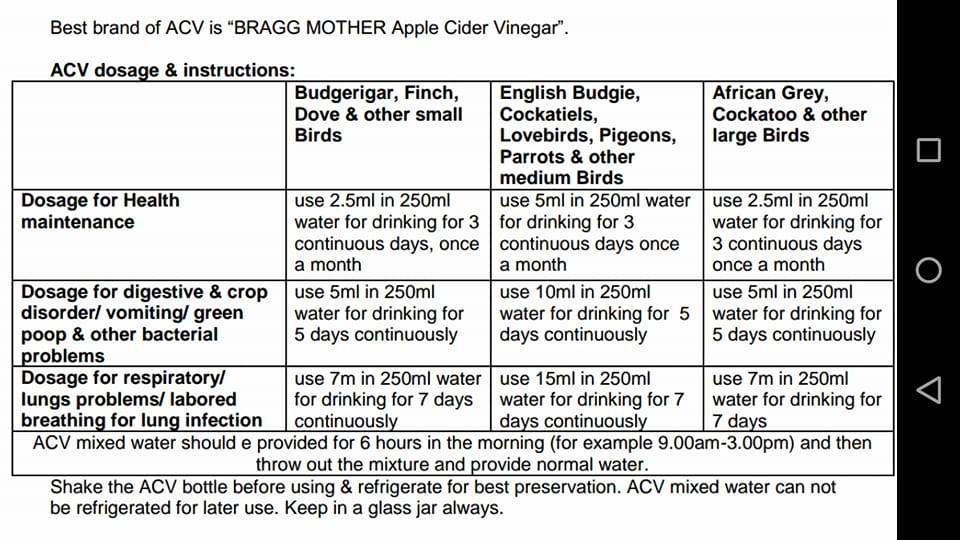 The Birds
Les Underwood judged birds brought that evening. He then explained why he had positioned the birds the way he had and that he had judged them on the basis of birds he would use in his breeding team.
The Chairman closed the meeting at 9:50pm and thanked those present for their attendance and wished them a safe journey home. (Good to have another new member Barry Collin)