South Hampshire - February 2018
Jim Lawrie, our acting Chairman, opened the meeting and welcomed all there and our guest Andy Thorpe, who was going to be asked questions on a one-to-one by Jim Lawrie.
Apologies were read out from Peter Merritt, John Burton, Bryon Shaw, Geoff Futcher, Brian Bailey, Heidi Patient, Jane Cooper and John Mullen. (8)
The main sub titles tonight were: The Early Days, Management, Success with a Small Stud, Showing and General Stuff / Meetings & How Has the Hobby Changed.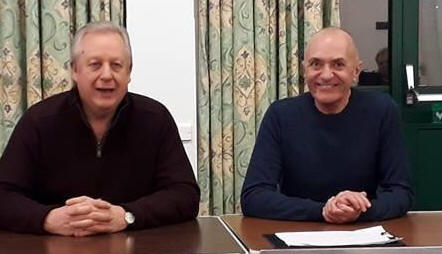 Q1. How and when did you get interested in budgerigars?
A: I started in the early sixties, when I was 11 years old, with a pair of Grey Yellows.
Q2. What was your first aviary set-up like?
A: It was a double breeding cage with a nest box on side. I then got a second-hand 8'X 6' shed with a small outside flight and I joined the local Gosport CBS.
Q3. Can you remember your first major Out-Cross?
A: I bought from various breeders around in the area, also Bob Steele.
Q4. Did you ever come out of the hobby?
A: I came out in 1980 for 10years, whilst working in Jersey. There I saw Muir & Crossman birds at the Jersey Open show and came back into the hobby when I came back home in 1990.
Q5. What appealed to you about budgerigars?
A: I started with a pair when I was 11 years old. I had seen various varieties of birds, but budgies seemed to be what I liked in those days and, later on, I was helped by various champion breeders from local clubs.
Q6. Who have been your major influences?
A: Bill Heffer was the main mentor.
Q7. What is your current set-up like?
A: Better then the first one! I now have a 20` long by 10`wide brick built aviary, with double glazed windows, internal 4'X 8' flights at each end and 16 breeding units (only use 12), complete with a worktop, which is very handy.
Q8. What are your views on outside flights?
A: They are not for me, as they are a security risk as well as all the foreign bird droppings etc,. I don't think they are needed.
Q9. How many birds and what varieties do you keep?
A: I keep several different varieties, Blues & Greys but mainly normals and also spangles and DF spangles - about 130 is my normal stock level (said to many) but going up to after the breeding season.
Q10. Describe your daily management routine?
A: In the morning I feed general seed and soft food with Just Supplements carrot & greens as well as Orlux egg food and fresh water (daily).
Q11. What do you do differently during breeding, resting, showing?
A: I have the same routine all year around.
Q12. Describe diet, supplements, softfood etc. Do you ever try new products? How influenced are you by what others are doing?
A: There are lots of new and different products now on the market to use, but I don't change my system of feeding unless I have problems. I feed lots of fruit and vegetables and millet sprays.
Q13. What lighting times do you use? How do they vary throughout the year?
A: The lights come on at 7am until 10pm, all year round, with a break at 12am – 1pm. I also have a dimmer system to turn on the night lights and then turn off the fluorescents.
Q14. What special features do you look for in a budgie?
A: Deportment / style a must, with a good back scull. I'm careful not to use very buff untidy birds with short masks.
Q15. What is your approach to pairing up, and how important is pedigree versus visual, colours and varieties?
A: I need both pedigree and visual when pairing up, making sure I am improving the birds and not going backwards by creating feather problems or dusters if they are in the back ground of my stock. I seem to be line breeding now.
Q16. How long will you leave a pair together before splitting them up?
A: 3 weeks at the most. I have split them after a couple of hours if I'm not happy with them or they don't seem compatible with each other! Some birds reject birds of a certain colour and won't breed. When changing a bird's partner to a different colour they will mate and produce chicks.
Q17. With a limited number of breeding cages how do you manage a clear first round?
A: I pair up in November and will let them go again to see if I can catch them on the correct cycle. I will also pair love couples I see in the flight if they are compatible.
Q18. What are the benefits of working with a small(ish) number of birds?
A: I find I have enough stock / breeding pairs. If you remember, Jim Hutton used to use only 12 breeding cages and many other breeders do the same and do very well in numbers and quality.
Q19. How many times do you show each year and how many birds do you show?
A: I only do about 2 shows a year now, although it used to be many more with lots of travelling. I take 6 birds at a time to my kitchen to prepare them with a wash with baby shampoo and I also trim them rather than pluck them, which I find gets a better result.
I seem to be judging a lot more now, but not as many as I used to.
Q20. How has the hobby changed?
A: It has changed in lots of ways, some for good and some for bad. With the judges training course now it has produced some good judges for the hobby, but others are still in the old days with regard to the modern budgie. I believe judges that are judging specialist varieties and don't keep them should go around to different aviaries to see and understand the variety content of the birds.
Q21. My time as a BS Judge:
A: I thoroughly enjoyed myself judging here and abroad: it is a real eye opener.
After the interview there was lots of interaction between all the members whilst they were having a cuppa. It was a great evening, with all the members creating a friendly atmosphere and most people contributing in some way. Some of the questions asked took up a lot of time, e.g.:
Showing bought birds
Should Judges' judge the variety that they keep? And many more!
We all (24) had a lovely evening listening to Andy's answers to our questions on various subjects, and on breeding & problems and how to overcome some of them in this great hobby of ours.
After the raffle Jim Lawrie thanked everybody. He then closed the meeting and wished everyone a safe journey home. Our thanks to Andy for not taking any expenses'!